Immerse, Teach & Retain.
60% of those who train using virtual reality remember what they learned weeks after training.
We help educational institutions train their students utilizing the latest XR technology available to the market.  We build simulated training environments where students can be immersed, train and retain information.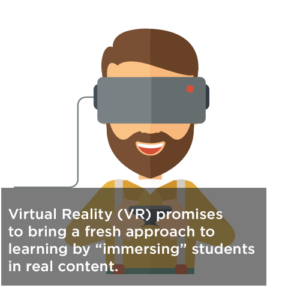 Virtual Reality (VR) promises to bring a fresh approach to learning by "immersing" students in real content. "Immerse" is the key word here because immersive experiences create memory and inspire action by appealing to all the senses. Because VR ignites all our senses, it provides interactive and "immersive" experiences that engage learners and creates a more powerful and lasting memory, which affects our learning.
(Read our full article on : How Virtual Reality Impacts Our Learning Through Emotions